Remembering Hugh Hefner
September 30th, 2017
Here in Utah, the so-called sexual revolution didn't amount to much—"a minor, powderless skirmish," in the words of my friend Tom Luebben. Leader of the so-called revolution was Playboy magazine founder Hugh Hefner, whose sybaritic lifestyle we were encouraged to emulate—and which surely we would have, had only we been able to afford it. What we learned from leafing through the magazine's pages was that sex doesn't come cheap. In order to get girls, you've got to have a nice pad, a silk bathrobe, a round bed, a state-of-the-art entertainment center and a closet filled with the most expensive clothes.
I didn't have any of that stuff; fact is, I couldn't even afford the price of the magazine. Luckily, there was no shortage of Playboy magazines knocking around. You could pretty much find one everywhere you looked—underneath any dorm room mattress, for instance.
Playboy opened a window upon a world we could only dream about, a world populated by young women who were not just beautiful but who also had interests, hobbies and opinions—not that any of us gave a hoot. We just fast-forwarded to the centerfold.
We weren't getting laid, but at least we were getting a general idea of what a naked girl LOOKS like, whereas our fathers had just Betty Grable in a one piece swimsuit, Rita Hayworth in a slip, or an Elvgren calendar featuring pinups posing in diaphanous nighties. As for men's magazines, all you could find under the mattress was low res cheesecake on cheap newsprint stock. But what really set such publications apart from Playboy was the absence of advertising. In my well-worn copy of EYE, published in 1955, I find only three ads, none of which are aimed at, say, James Bond.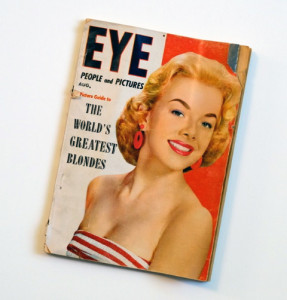 "Stop losing ugly fat the first day," begins an advert for weight-reducing chewing gum. "Doctors agree, it's unhealthy to be fat. Overweight people often die younger."
"Glandular inflammation, a constitutional disease, very commonly occurs in men of middle age or past and is accompanied by such physical changes as Frequent Lapses of Memory, Early Graying of the Hair and Excess Increase in Weight," reads a pitch from the Excelsior Institute of Excelsior Springs, Missouri.
"NOW! Get Amazing New Comfort and Relief with Patented RUPTURE-EASER!"
No wonder EYE went out of business. I'm guessing their demographic died.
So let's give credit where credit is due. Hugh Hefner's magazine not only inspired impossible adolescent dreams, but also gave men of a certain age hope that in spite of such afflictions as glandular inflammation, memory lapses, hair loss and weight gain, pretty young women with alluring curves and gravity-defying breasts will still come running. That is, provided one's love nest is furnished with all the right stuff.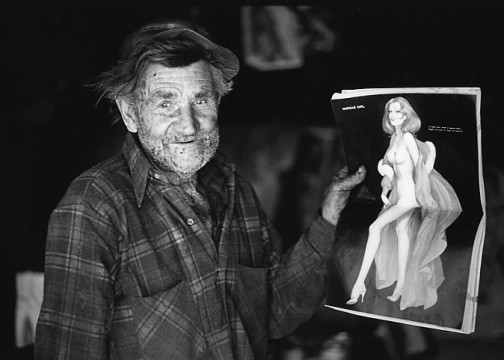 -Richard Menzies