A Visit With Ralphael
June 16th, 2017
Improbably situated among pawn shops, tattoo parlors, biker bars and payday lenders stands the otherworldly sculpture studio of Ralphael Plescia. Last Friday I finally mustered the courage to step inside, and I'm glad I did. Like Gilgal Gardens, it's a refreshing escape from the chaotic parade of vagrants, panhandlers, and hookers who frequent the neighborhood.
First thing I noticed was a gaping sinkhole, out of which a naked woman reaches for forbidden fruit as a menacing serpent snaps at her curvaceous bottom. A second reptile slithers across a mound of oversized religious texts. Deep inside its yawning jaws you catch sight of a bloodied hand disappearing down the creature's gullet.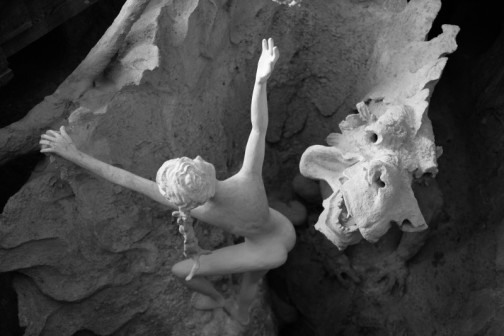 But wait! We haven't even got to the scary part yet. That would be the underworld, a glimpse of which you get by peering downward through a second opening in the main floor. Way down in the sub basement are figures struggling to escape from what appears to be a lake of molten rock. Later, I would learn the lake isn't brimstone but well water, the result of an accidentally tapped water table
I elected first to go upstairs, even though the top story proved to be even hotter than hell. There, underneath a Krazy Kat-like superstructure that features frescoes on the ceiling, are a number of works in progress. Pretty much everything is geared toward illustrating the artist's interpretation of the Bible and a vision of heavenly hosts and hostesses, foremost among them the voluptuous Queen of Heaven—the font of wisdom, according to Mr. Plescia.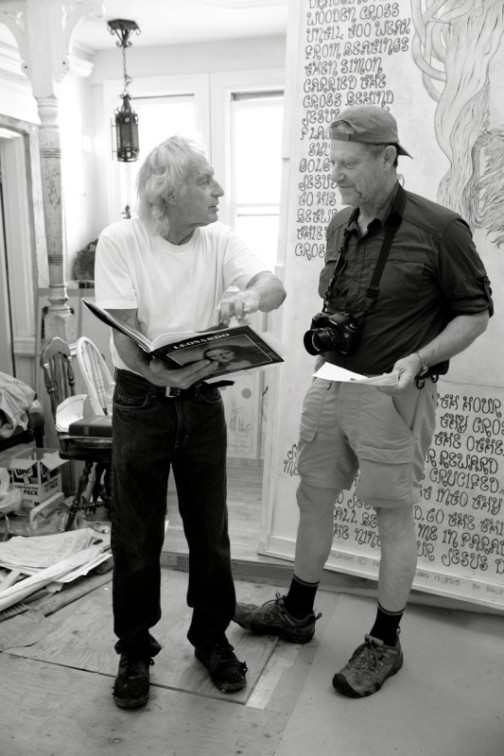 While Ralphael schooled my befuddled friend Mark on gospel doctrine, I seized the opportunity to snap pictures. Later, I spelled Mark so that he could take pictures while my ears got talked off. I learned that the building had once been an auto parts store owned by Ralphael's father. In fact, artifacts from that era—including vintage diagnostic tools and a 1931 Cadillac town sedan–are on display in a separate section.
As a young man, Ralphael (Then known as Ralphy), worked in the store, but didn't take over the business because his father wanted him to acquire a broader education. Unable to secure academic credentials, Ralphael is entirely self-taught, having learned construction, electronics, painting, sculpting, mechanical engineering, musical instrument design—even mortuary science—on his own. Embalming dead bodies never bothered him because he holds a firm belief in an afterlife—the result of a traumatic auto wreck in Nevada in which he briefly died but was turned away from heaven by two personages he recognized as departed kinfolk.
Highlight—or low light—of the tour was descending a narrow flight of stairs into the cellar, thence into a yawning serpent's mouth, thence across the Slough of Despond on a rickety footbridge and finally through a narrow, winding passageway to the Garden of Eden. It was pretty nice there—but still, I was happy to eventually find my way back to State Street–hookers, panhandlers, dope fiends and payday loan sharks notwithstanding.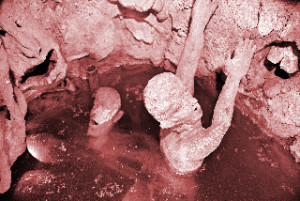 -Richard Menzies