The Cowboy State
December 14th, 2016
The president-elect tells us we should all quit bellyaching and start looking forward instead of backward. So I decided I'd take a look at Wyoming, where—thanks to the Electoral College—one vote is equivalent to four blue state votes.
Here's what you should know about driving in Wyoming. If you drive a normal-sized vehicle, keep a watchful eye glued to your rear view mirror. At a single lane construction site along Interstate 80 I was tailgated for miles, then abruptly run off the road by a speeding semi truck. Note to self: peel off those Bernie bumper stickers before you attempt another trip to Wyoming.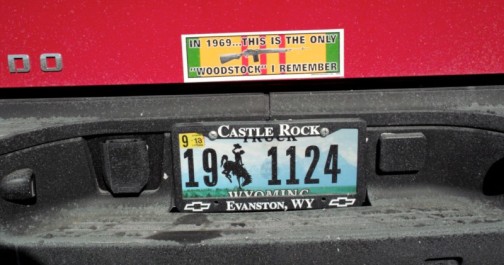 Speaking of bumper stickers, forget about all you thought you knew regarding social progress over the past several decades. In Wyoming, they don't remember the antiwar movement of the Sixties, nor do they remember the civil rights movement, the equal rights movement, or the gay rights movement. If you've got a gun, you need only concern yourself with suspicious movements.
What about local businesses? The border town of Evanston has two: fireworks stands and liquor stores , plus a mental hospital serving the needs of those whose afflictions cannot can't be calmed by just fire water and fire crackers. Close to the Interstate are a number of motels, each underneath a towering sign. Why are the signboards so high? So the snowplows won't run over them in the wintertime.
Near the center of town you will see what looks to be older homes—i.e., homes without wheels—but these are rare and date back to the time before the community became just another staging area for oil and gas exploration. Nowadays, hardhats and insulated coveralls are regulation attire, although if you head out to Wyoming Downs, you might see a cowboy hat or two in the crowd. Longtime residents wear cowboy hats in honor of those who have died after being bucked off the backs of horses, and also hapless children who toppled from the saddle stools at MacDonald's. The reason so few survive is because if you should get hurt in Wyoming, you've got to be airlifted to an out-of-state hospital.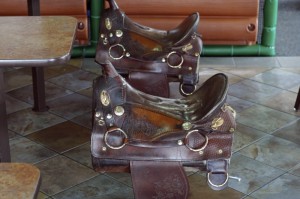 Out of state is where every Wyoming kid who yearns to be something other than an oil-spattered roughneck, a prematurely disabled cowhand, or a liquor store clerk goes. Many head for the West Coast, where it's warmer and where there are better schools and a broader range of career opportunities. Over time they become liberals whose votes, sadly, count for next to nothing because they didn't have what it takes to stay put in the Cowboy State.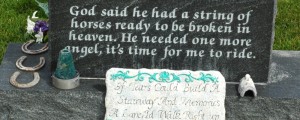 -Richard Menzies