The Summer Of '62
September 8th, 2016
That would be a fine title for a coming-of-age story, were it not for the fact that nothing noteworthy happened. To paraphrase Julius Caesar, I came, I saw, I went.
Where did I go? To the tiny tourist village of West Yellowstone, Montana, at the urging of two friends who'd been enjoying a fun-filled summer there. Specifically, they mentioned skinny-dipping with wild girls at a warm spring called The Fire Hole. That was all it took to set me packing.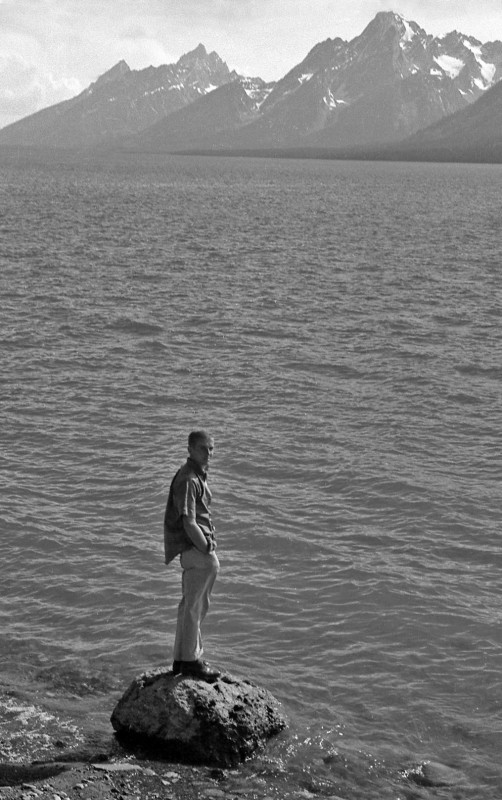 I was nineteen years of age and a Mormon, as were my two friends Ricky and Doug. This meant we were all three of us on the verge of being ordained "elders" in the church, at which time we'd be eligible to embark on missions. For two long years there'd be no drinking, no smoking, no swimming with bare naked ladies and certainly no sex. So for us, West Yellowstone presented a last opportunity for living it up—or, more precisely—a first opportunity for living it up. That was certainly true for me, who had never partaken of tobacco or alcohol and was as virginal as the freshly fallen snow.
Turns out debauchery isn't all it's cracked up to be. My friends' living quarters were cramped, so cramped that I'd be sleeping on the floor, amidst a midden of empty beer cans and cigarette butts. Moreover, the job they'd found for me—washing dishes at the Knotty Pine Café—was even worse than the groundskeeper job I'd left behind. It paid just seven dollars a shift, and, boy, did I ever earn it!
As I scraped plates and wallowed in warm suds, I tried to imagine how much fun I'd be having later at the Fire Hole. But with whom? The young waitress who kept bringing me dirty dishes was fairly attractive, and she smiled faintly even though I was now gravy-stained and speckled with parsley springs, lettuce leaves and green peas. Her smile was nothing, however, compared to that of the short order cook, who couldn't seem to keep his eyes off my behind. As we approached closing time, he offered me a place to stay in his trailer—free of charge. I politely declined. Yes, I was looking to lose my virginity, but preferably not to some middle-aged, hairy guy!
The following morning I rolled up my sleeping bag and announced that I was going home, much to the dismay of my two friends Ricky and Doug, who were now convinced that I had been sent by the bishop to investigate their activities in West Yellowstone. What an insult! I may be a pussy, I assured them, but I'm no spy.
Matter of fact, I'd pretty much forgotten the whole episode—that is, until recently, when I heard from a former high school classmate—also named Richard. Turns out he, too, had once worked as a dishwasher at the Knotty Pine Café! Like me, he was at the time a good Mormon boy looking to lose his virginity in the The Big Sky State.
"Bruce, Steve, and I left town on the day we graduated high school, changed clothes, and drove to West Yellowstone," he writes. "The next day I got a job in the Knotty Pine Café washing dishes for seven dollars a day. I had great hopes that I would find some loose girls and lose my virginity.
"About two weeks before we went, my bishop called me in and said that he had heard that I was going to West Yellowstone with Bruce and Steve. He reminded me that they were Catholics and I should not allow myself to be pulled down to their level. I was astonished that he would say such a thing. Interestingly, Bruce is now a Mormon, Steve a Lutheran, and I am a Catholic."
I'll leave it to you, dear reader, to guess which of the threesome actually managed to lose his virginity in West Yellowstone, Montana.
-Richard Menzies