Two Books
July 29th, 2016
And now let us pause briefly for a commercial message regarding two recently published books—in the production of which yours truly was peripherally involved. PARALLEL LANDSCAPES (Shinbark Press, San Francisco) consists of 47 photographs by Mark Citret, shot at a sewage treatment construction project near his home in San Francisco. "My Point Lobos," is how the onetime assistant to Ansel Adams describes the site.
Prior to publication of the book I offered Mark a number of helpful suggestions—all of which were summarily rejected. I don't take it personally because that's the way Mark rolls. He's easy-going and generous of spirit, but with a mind all his own.
Whenever I look at one of Mark's pictures, I'm reminded of something the poet John Ciardi once said: "That which is looked upon significantly, IS significant." Thus an "empty" room becomes something you can gaze upon for hours on end and still not see all there is to see there. And when you open the book for the second time, it'll take you even longer to get through it. I will expend no more words in trying to describe Mark's work, because—let's face it—wordy descriptions of art are just so much piffle dust. Quoting Ciardi again: "HOW does a poem mean?"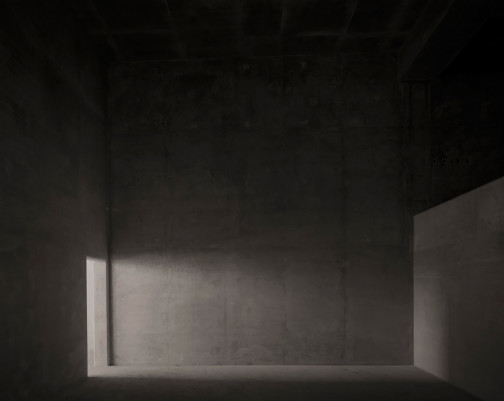 BURT MUNRO, THE LOST INTERVIEWS (Penguin Books,NZ) is the fourth book to come out about the Kiwi motorcycling legend since he became legendary—thanks largely to Roger Donaldson's 2005 film "The World's Fastest Indian." However, back when I met Mr. Munro on the Bonneville Salt Flats in 1971, he was barely known outside the racing community. In fact, I was the only press photographer on hand to witness Burt's final speed run, at the conclusion of which I shot a Kodachrome transparency that reposed quietly in a cool, dry place for some 35 years.
Meantime, transcripts of an extended interview conducted in Munro's one-room workshop in the late Sixties also lay gathering dust. A young freelancer by the name of Neill Birss had interviewed Burt with the intention of writing a magazine article or two. But then life intervened; Birss got married, moved from Invercargill to Christchurch, got a real job, and all but forgot about the project. In fact, the transcripts had gone missing; that is, until the early morning hours of September, 2010, when a 7.1 magnitude earthquake rattled Christchurch.. A second quake, on February, 2011, flattened much of the business district and killed 185 citizens.
Sifting through the rubble, Birss, now a grandfather, came upon a box containing the lost interviews! The result? Still another book about Mr. Munro's two-wheeled adventures and lifelong quest to see just how fast he could go on a much modified 1920 Indian Scout.
Chapters 7 through 16 detail Burt's first nine trips to America, his travels to and from Bonneville and back and forth across the country in various oil-burning clunkers. Thus 1956 was "The Year of the Chevrolet," 1957 "the Year of the Plymouth," and 1959 "The Year of the Pontiac." What you will learn from reading this book is that Burt Munro wasn't just a daredevil and brilliant mechanic, but also something of an idiot savant when it came to recalling minutia such as the cost of a sandwich or a gallon of gas, miles traveled, crankcase capacities, compression ratios, torque settings, valve clearances, etc. Think Rain Man meets MacGyver. Burt Munro was someone for whom a breakdown in the middle of nowhere was naught but a speed bump along the royal road to romance. I am honored to have met the man, however briefly, and to now see my iconic photograph gracing the cover of Neill Birss's excellent book.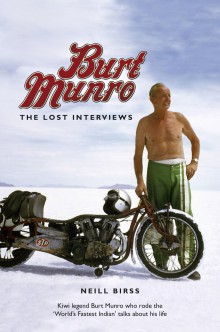 -Richard Menzies