Remembering Jimmy Dart
June 26th, 2016
James was his given name, but everyone where I grew up knew him as Jimmy—because he never seemed to grow older. He remained youthful not only in appearance but also in spirit. How could he possibly have died of causes incident to old age?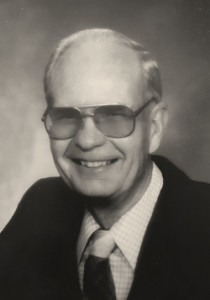 James Dart held a number of jobs over the course of his 92 years, but in Carbon County he'll always be remembered as the founder and leader of the Jimmy Dart Orchestra—members of which came and went, while Jim remained a fixture on drums, and his wife Ruth on piano. For a time my older Jim played first trombone, and I remember watching as he'd load his instrument into the trunk of his very cool '49 Chevy coupe and then drive to band practice at the Dart family home, which was just two doors up the street from ours. That's the way it was in the Fifties; if you had a car, you never walked anywhere. Walking was for losers.
How I envied my older brother! Not only did he have a cool car, but he also was a sharp dresser, a scholar and a talented musician. He was good-looking, in a Buddy Holly sort of way. In fact, he'd been voted Carbon High School's "cutest boy."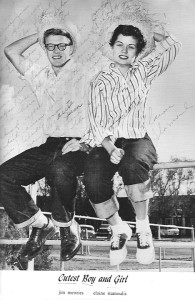 I had just one thing in common with my overachieving brother: I, too, played trombone. More specifically, I "owned" a trombone. It was the one my father had played when he was in school, which he'd handed down to his eldest son, who in turn handed it down to me after he bought himself a much more expensive one. Sadly, musical talent isn't something I inherited. I never even learned to read music; I just went through the motions and made random noises.
Then one day, out of the blue, a miracle happened. I became a player in the Jimmy Dart Orchestra!
Here's how it happened. James Dart was married to Ruth Redd, daughter of John Redd, founder of Redd Motor Company. As a result, he worked as parts department manager. I, too, had a job at Redd Motor as a used car reconditioning "expert," a position I'd landed thanks to a neighbor lady whose grass I mowed, a woman who was married to the company's general manager and the founder's son—Ruel Redd. I'm not sure how the garage's mechanics had gotten their jobs; perhaps they knew how to fix cars? What I know for sure is that they all had served in the military—same as Jimmy Dart. Thus it happened that the Coke machine that sat just outside the parts department window was a gathering spot not unlike the local V.F.W. Club. It's there that I heard every dirty joke I know, and where one bright day in 1962, I landed my gig with the orchestra.
I remember the joke of the day was a riddle: Which is the stronger sex: male or female? Being a parts department joke, the answer had something to do with nuts and screws, and I'll just leave it at that. In fact, I was about to leave the conference when Jim Dart asked if I'd like to play in his dance band that night. His trombonist had called in sick, and he was looking for a replacement. That's when I had to confess the embarrassing truth. Although I owned a trombone, I didn't play it very well, I explained. I can't even read music.
"No problem," said Jim. "I've promised them a full orchestra and I just need someone to fill the empty chair. All you need to do is just go through the motions. The gig pays ten bucks."
Ten bucks! Had anyone told me it's possible to earn money playing a musical instrument, I might have practiced!
Turns out it was a hard-earned ten spot. Going through the motions is hard work, as anyone who has ever married into a job can tell you. I moved my slide back and forth; I puffed out my cheeks, I turned pages, I emptied imaginary spit from my spit valve. All the while, the band played on without me. Then suddenly I heard a familiar tune, a swing riff on a classical composition by Georges Bizet. "Bizet Has His Day" was a piece we'd played—or attempted to play—in my high school band. And in one section, there's a great trombone solo. I decided to give it a go.
Bwaah, bwah bwah. Bwah bwah, bwah bwah bwah bwaaaaah! Damn, I was owning it!
Sometimes, when a member of a dance band launches into a solo, the dancers on the floor will stop dancing and listen. In this case, they had stopped dancing because the noise I was making wasn't danceable. From behind his drum set, Jimmy Dart shot me a look. The beat! Remember the beat!
I backed off. The dancers resumed dancing, and hours later the dance finally ended. Good night ladies, hello ten dollars.
I was never rehired; however, Jimmy Dart and I remained on friendly terms. Because that's the sort of person he was—impossible not to like.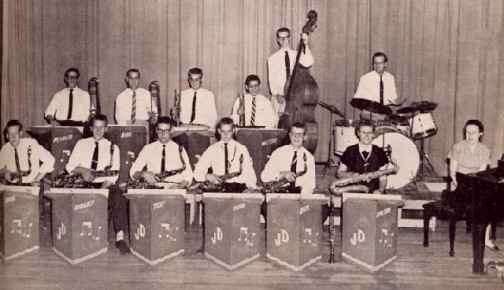 -Richard Menzies