Don't Smile!
June 13th, 2016
As a photographer, I never tell my subject to smile—that is, unless he or she is auditioning for a position on our local Fox television news team, in which case a happy face is obligatory. In real life, however, a toothy grin just isn't natural. That's because life, in the final analysis, is no joke.
Sadly, if you expect to earn a living with your camera, there are times when you must allow your subjects to smile. Brides and grooms should be smiling in their wedding photos, and so should babies, of course. For newlyweds and babies, smiles may indeed be natural. That's because newlyweds and babies don't know what's coming.
What's coming is what Mike Disfarmer of Heber Springs, Arkansas, clearly saw whenever he peered into his viewfinder. I'm pretty sure he never gave instructions, so the people he photographed could only stand there and look into the lens. The result was a treasure trove of magnificent portraits, which the photographer sold to his customers for fifty cents apiece. That would have been a good investment back in the Nineteen Forties, as today an original Disfarmer contact print will fetch as much as $28,000. In New York City it will—not Heber Springs, Arkansas.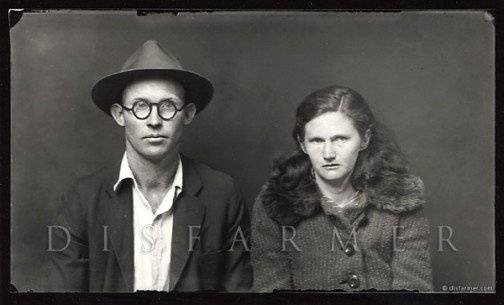 What Disfarmer had going for him was the fact he was a local boy. As such, he had an advantage over, say, Richard Avedon or anybody else from out of town. His subjects trusted him, and here is the thing about photography. If you can gain the trust of your subject, you can "accidentally" take a great picture even if you're not a professional. I've seen this happen time and again in snapshots I've rescued from trash bins, abandoned storage lockers, and landfills over the years. Here, for example, is a wallet-sized Velox titled simply "Doris."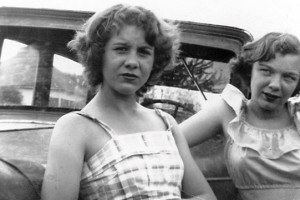 I don't know which of the girls is Doris, or exactly what their connection is to the bank robber Clyde Barrow, but I'm pretty sure there must be a connection. Put this picture on the cover of a crime novel, and it'll be an instant bestseller!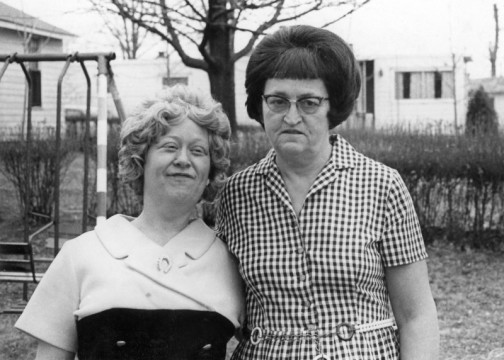 Now consider this one, which comes not from a Diane Arbus retrospective but from a discarded family album. Okay, so Jane is smiling, but that's okay because Aunt Lilly isn't. It's perfectly permissible for one person's face to be the mask of comedy, provided the other reflects tragedy. That's how we know we're looking at real people, and not the Channel 13 News Team.
-Richard Menzies