Frogmere
September 23rd, 2014
Many years ago my wife and I purchased nine and a half acres of land in central Utah—not so much as an investment but because we yearned to own a place of our own and couldn't afford to buy a house. In the event we could no longer make the ever-rising rent on our city apartment, we could relocate to the country, park the VW bus on cinder blocks and call it home. Anne christened the plot Frogmere—I'm guessing after a Victorian novel she was reading at the time.
As far as I know, Frogmere has no frogs, nor does it feature a mere, which is Old English for a shallow lake. In fact, it has no water at all except for an irrigation ditch that runs diagonally across it. Sometimes there is water in the ditch, water that isn't mine but which does support a variety of wildflowers along its bank during infrequent wet seasons. In hopes the ditch bank might also support trees, I once planted half a dozen cottonwood saplings and half a dozen aspens. By the following morning, all had been devoured by free-roaming ungulates.
Frogmere is fenced, but evidently the fence doesn't keep out deer, elk, or the neighbor's sheep. The result: No trees except for a lone Siberian elm that took root beneath strands of barbed wire and thus was able to grow to maturity. How I wish there were more like it!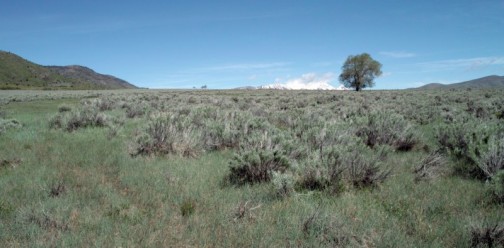 Beyond the irrigation ditch, the dominant plant is sagebrush, described by Mark Twain as "a gnarled and venerable live oak-tree reduced to a little shrub two feet high, with its rough bark, its foliage, its twisted boughs, all complete." In one corner of Frogmere, a section I call "the forest," is a small thicket of knee-high gambrel oaks that would be much taller were it not for Bonsai-loving ungulates.
To date I have spent exactly two nights at Frogmere—once in a tent and once in my Volkswagen camper. I've thought long and hard about what how I might live there on a longtime basis, and each time I do, the same images spring to mind. I'll either be a cranky old man living alone—except for my faithful border collie companion—or else I'll be attended to by half a dozen sister wives, all attired in granny gowns and shovel bonnets. In other words, I'll have become one or another of my two nearest Sanpete County neighbors.
But then came a third vision of the future, arriving in the form of a letter from an oil and gas company based in Richfield. In the letter is a satellite image of Frogmere as seen from outer space, except that my ragged cedar post fence has become a bright yellow outline. Look closely and you can see the irrigation ditch and also my lone Siberian elm. At the bottom of the map are these words: FREEDOM TREND PROJECT. I've done a bit of online research and have discovered the Freedom Trend Project is a close cousin to the Liberty Prospect, the Independence Prospect, the Providence Prospect and the Covenant Prospect. It is not—at least not so far—related to the infamous Tea Party Pot Dome Scandal.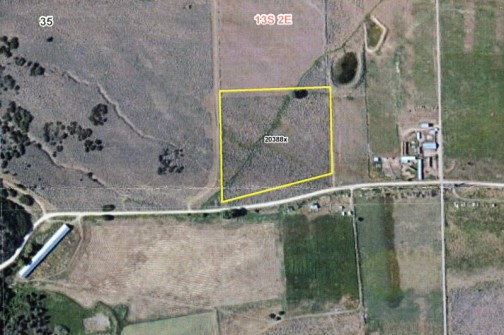 I worry about that word "freedom." In Utah, whenever someone drops the F-word, it means they're out to take away someone else's freedom. Why, just last weekend a group advocating traditional marriage were at the state capitol demanding freedom, in this case the freedom to deny same-sex couples the right to marry. So I'm very suspicious whenever I see the F-word, in particular in the context of a mailing issued by what appears to be a faith-based oil exploration company.
Included in the mailing was a contract that would grant the oil company an option to drill an exploration well on Frogmere. I was still wondering whether I should sign it when the phone rang. It was a neighboring land owner, offering to buy Frogmere. I opted instead to sign the oil company contract.
So what happens next? Remember the movie "Giant?" Remember Jett Rink? Well, next time you see me, I won't be wearing these rags and I won't be driving a 41-year-old Volkswagen bus. No, I'll be wearing snakeskin cowboy boots and driving a big ol' Cadillac, preferably one with a longhorn hood ornament. And Elizabeth Taylor will be so sorry she opted for a traditional marriage to Rock Hudson, who in real life would have preferred to marry James Dean.
-Richard Menzies