Salt Fever
September 13th, 2014
One month ago, the Southern California Timing Association was all set to celebrate the 100th anniversary of land speed trials on western Utah's Bonneville Salt Flats. Over five hundred entrants—including Danny Thompson, son of racing legend Mickey Thompson, had signed up. Then came the rain, and more rain. Come Speed Week, the Bonneville Salt Flats were looking more like ancient Lake Bonneville.
Among the disappointed racers was Burton Brown, who had towed his streamliner all the way out from Fremont, Wisconsin. And then back again. It was bad news for me, too, because Burton had hired me to document his land speed record attempt.
Actually, I was relieved. Fact is, we here in Utah can use all the precipitation we can get, even if it means the annual speed trials get washed out. Moreover, I wasn't exactly looking forward to spending a week on the salt, baking under a hot sun, watching from afar as vehicles that are no more than specks on the horizon disappear into the heat waves like Clint Eastwood riding out of the fictional mining camp of LaHood.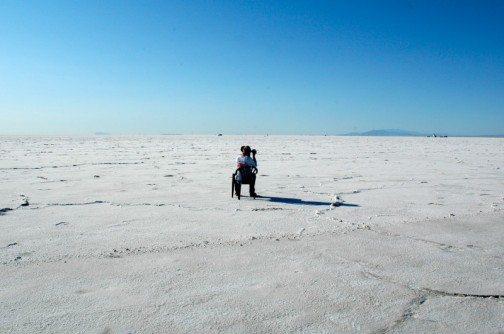 Undeterred, Burton and his crew returned last week for USFRA'S World of Speed. It's a smaller event, made even more so by the fact access to the raceway entails fording a saline moat about a quarter of a mile across. As a result, most spectators remained stranded on an island two miles from the event. However, Burton dived in—and so did I. Why?
"If I have to explain, you won't understand." So reads a sign on the nose of Burton Brown's streamliner, and I presume that's what he'd say if I were to ask him why he spends thousands of dollars and countless hours in the workshop in preparation for the annual speed trials. However, I didn't ask because he was preoccupied, and I've learned from experience never to chat up a mechanic when he's thinking. Think of him as a Zen master who is meditating. Be still, grasshopper!
While Burton fiddled with his engine, I wandered around the pits. Surprisingly, no one asked to see my pit pass—which is good, because I didn't have one. I didn't need no stinkin' badge because no one noticed me. Every last entrant was hunkered over an engine bay, each lost in meditation.
Now and again a racecar or a motorcycle would fire up. Engines tuned for top end run roughly at idle; some have to be pushed in order to get underway. But once underway, the machine roars to life, rising in pitch as it gains speed. Then suddenly it's gone, leaving behind a cloud of exhaust and saline mist. Occasionally, the now distant roar abruptly stops and you will see a second cloud of smoke and salt spray rising in the distance. An ambulance takes off. Trials are momentarily suspended, but resume soon as the track is cleared.
As a spectator sport. Bonneville racing leaves much to be desired. At Nascar races, you at least get to see the accidents and bear witness to the fisticuffs that ensue. Not so at Bonneville. The competition here is friendly—so friendly that participants willingly share their tools and expertise with one another. It's quite refreshing, really.
Back at the Victory Motorsports encampment, Burton and his crew were still engrossed in fine-tuning their engine. In a previous run, Brown has come within seven tenths of a second of setting a world speed record. That's just how big a difference a tiny adjustment can make.
Storm clouds were gathering by the time Brown's streamliner came to the line. Another delay! I was now standing three miles downrange, surrounded by open space. Lightning bolts tickled the tops of distant mountain ranges; thunder rumbled. Then all was silent, beautifully silent. It was so peaceful and quiet out there. Perhaps, as Burton had promised, I was catching "salt fever."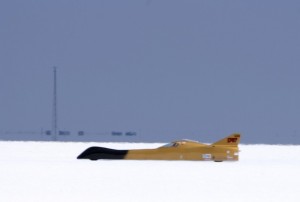 Then came another rumbling as Burton's streamliner streaked across the horizon toward Floating Island. How fast was he going? 204.822 mph at the third mile mark. Well short of the G/GS record of 260.249, but, still, fast enough to qualify for membership in the 200 Miles Per Hour Club. Which means a special hat, a sticker, a lapel pin and a listing among such luminaries as A.J. Foyt, Stirling Moss and Bobby Unser. So is that all there is?
I suppose I could ask Burton Brown, but then even if he were to answer, I still wouldn't understand.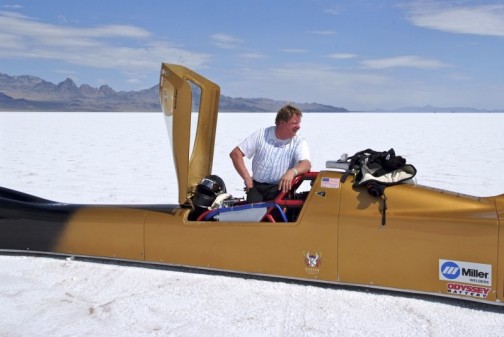 -Richard Menzies