Earth Art
February 13th, 2014
I have something in common with Nancy Holt, who died last Saturday at the age of 75. Back in the Sixties, both of us were drawn to the Great Salt Desert of western Utah, and by chance I was one of two cameramen who documented the 1976 installation of her earthwork known as Sun Tunnels.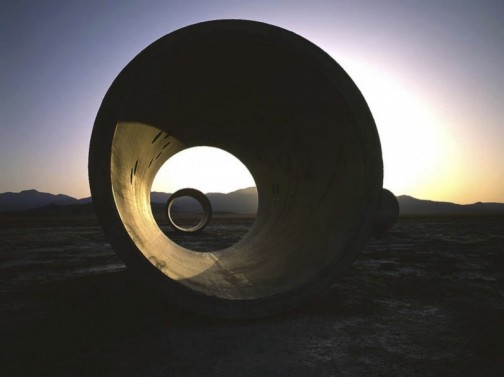 Also on site that day were two engineers, one astrophysicist, one astronomer, one surveyor and his assistant, one road grader, two dump truck operators, one carpenter, three ditch diggers, one concrete mixing truck operator, one concrete foreman, ten concrete pipe company workers, two core-drillers, four truck drivers, one crane operator, one rigger, and a helicopter pilot. That's surely the biggest crowd ever to attend an unveiling of a Nancy Holt installation.
To be honest, I had no idea what it was all about. Same goes for the hard hats. That said, I remember that a good time was had by all. It's not every day that heavy construction workers are paid to build things that have no commercial value. Most were genuinely puzzled, same as the long haul truckers who daily pass by Karl Momen's "Tree of Utah," which stands beside Interstate 80 in the middle of the Bonneville Salt Flats. Tune your CB radio to Channel 19 next time you're in the area and you will hear some of the most astounding critiques.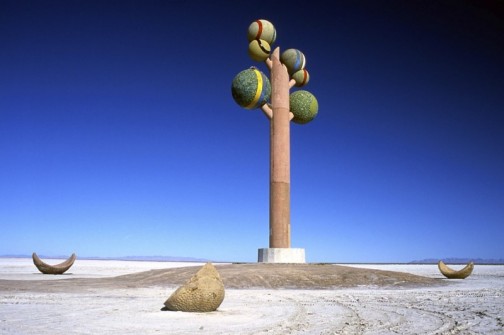 Trucker One: "What's that strange thing settin' up there? Radar?"
Trucker Two: "No, that's what they call a sculpture, I guess, but I don't see the beauty in it."
Trucker Three: What the hell's it supposed t' be?
Trucker Four: "It has something to do with the universe. That's the planets or something."
Trucker Five: "I never could understand what that iron shit was on the ground. I guess that was supposed t' be at one time back in the century or two centuries or so that thing cracked open and that's what was inside of it, maybe."
Trucker Six: "Good possibility."
Momen's tree is seen and evaluated thousands of times daily; Holt's tunnels, not so much. Last time I was there I had the place all to myself—which is, I believe, the best way to experience an earthwork. Happily, the Sun Tunnels are well off the beaten track and travelers will find no road signs pointing the way. There's no interpretive plaque explaining how it got there or what it represents. It just is what it is.
Here and there in the West Desert I've stumbled upon even lesser visited art works, and a few years back I was privileged to be the ONLY person EVER to behold a sound sculpture called The Wall of Clang.
The Wall was the work of San Francisco artist James Harbison, who constructed it out of locally "found" objects, some of which hadn't actually been lost. Charged with pilfering, Harbison spent a night in the county jail; however, he was still a free man the afternoon he introduced me to his project. It was beautiful! And what made it so beautiful was the setting. Framed by miles and miles of open space and animated by the wind, the Wall of Clang was a once-in-a-lifetime experience.
But don't ask me to take you there, because it isn't there anymore. Days after The Wall of Clang it was completed, workers from a nearby potash plant discovered it and—mistaking it for a junk pile—hauled it to the landfill.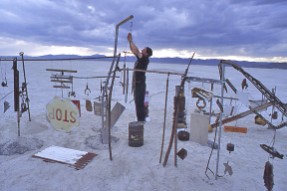 -Richard Menzies