Memorial Day
May 27th, 2013
Nowadays it hardly matters which cemetery I'm standing in. All that counts is that I'm still standing. And moving! On my way to my hometown of Price, I took a slight detour to a graveyard just off State Route 35 in the Uinta Basin. I had never heard of the town Utahn before, and if in fact there is such a town I failed to find it. However, the Utahn cemetery is well-marked, by a large metallic sign with cutouts through which one can see letter-shaped patches of clear blue sky. There is no running water, and hence no grass—just Astroturf, paving bricks, lava rock, concrete and plastic flowers. Surprisingly, there is one living tulip plant and three magnificent lilac bushes in full bloom. A miracle!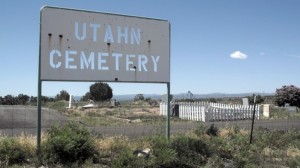 I don't know any of the folks who are buried at Utahn; however, many of the surnames rang familiar. Pioneer graveyards, it seems, are more than just the remnants of yesteryear's enterprises. They are the seedbeds of future generations.
Sometimes I wonder just how miserable life was in the old country, that my forebears imagined things would somehow be better in the coal fields of eastern Utah. None of them ever struck it rich and neither have I, although I count myself fortunate in that I have spent all of my seventy years above ground, and that I still have a full set of fingers. I still ride a motorcycle, and I enjoy going fast—especially when "at my back I hear, time's winged chariot hurrying near."
In Price I placed flowers on the graves of my parents, who are buried in a section where I recognize just about ALL of the names. They are Mom and Dad's contemporaries—a constellation of good citizens that includes my high school English teacher, our family doctor, our neighbors, the guy who serviced our family car, the couple who ran the venerable Milky Way Ice Cream Shoppe, and Barney DiVietti, who sold me my first camera.
A few of my contemporaries are also buried at Cliffview cemetery, but the one I was remembering on this particular Memorial Day is Clive G. Jeffs, who hasn't been seen since he punched out of his crippled F-100D jet over South Vietnam on March 12, 1971.
Clive and I were boyhood friends. I remember once we built a soapbox derby racer, using baby buggy wheels attached to a Hercules powder box, sheathed in $1.85 worth of shiny sheet metal. On his very first run, Clive crashed the thing into a telephone pole—but luckily, he wasn't seriously hurt and he didn't go missing.
Although Clive has not come home, I have learned that there is a tombstone in the Huntington cemetery with his name on it. So I jumped on my motorbike and headed south on State Road 10, the same road he and I once rode our bicycles. Huntington isn't a large community and I figured it wouldn't be hard to find Clive's marker, but I was wrong. Of course it would help if people would just die in alphabetical order, but failing that, a decent directory would certainly help. The Huntington cemetery has a plot map, which indicates that Clive's tombstone can be found in Section K—but alas, the plot map doesn't indicate which way is north and which way is south. Street signs would also be helpful, but I couldn't find any. So I started looking for American flags, and by and by I came to a group of six people pushing a wheelbarrow full of little flags. Their mission: to place a flag on the grave of each and every veteran.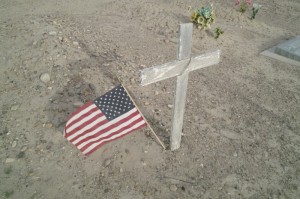 Alas, the flags hadn't yet been placed because the crew was having a hell of a hard time finding the right tombstones. None had come across Clive's marker; however, one of them seemed to know where section K might be.
"Just follow my finger," she said, pointedly. "It's just east of the road over there."
Well, "just east of the road over there" is the North Emery High School football field. I had my doubts, but I went looking anyway. But I found no graves in the football field, and I found no section K and I found no stone with my friend's name on it. Meantime, the flag brigade continued to wander aimlessly, pushing their wheelbarrow along and scratching their collective butts. So for the time being, I am sorry to report that Captain Clive G. Jeffs remains missing in action. But I thought about him all the way to Mount Pleasant, where I took a room for the night at the Horseshoe Mountain Lodge.
"Are you a serviceman?" asked the desk clerk.
"I'm afraid not. That is, unless you count the Peace Corps."
"Well, that's a service, isn't it?"
In Mount Pleasant, it evidently is. Doesn't mean I get a flag, but I did score a discount.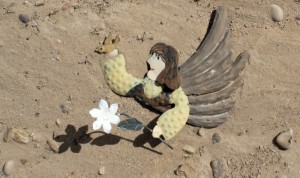 -Richard Menzies