Vera
May 7th, 2013
Back in the Fifties I spent a lot of time scanning the skies over Utah for Russian bombers, but I never met an actual Russian until Vera Andrianov came into my life. She was one of many hair stylists working at a walk-in studio—I believe it was called Haircuts Plus. I didn't ask for her, nor she for me, but we immediately hit it off and it wasn't long before I became a regular customer. When she moved to Salon Keiji, I followed, and I followed once again when she moved to Visage. By this time my son Alex had become one of her regular customers, as had my dog Tippy.
But Tippy wasn't going to Visage to get his hair styled; the attraction for him were the handouts—Russian candies , rawhide chews and desiccated pig's ears. It got so all I had to do was ask Tippy if he wanted to visit Vera and he'd begin to bark like crazy!
Vera had begun inviting Tippy to the salon after her beloved Airedale Curly died. Vera had taken it hard, as had her husband Yury and son Gregory. The four of them had been a family, and now there were just three.
The Andrianovs had emigrated form Russia in the Nineteen Eighties when Gregory was three years of age. The reason: They didn't want their only son to end up fighting and possibly dying in a seemingly endless war in Afghanistan. But that wasn't the only reason, I'm sure. They had come in pursuit of the American dream.
Here's what I learned from Vera. As frightened as we were of the Russians during the Cold War, the Russians were even more frightened of us! Russia isn't nearly as cold as everyone makes it out to be; Chechnya is actually quite a nice place to live and Vladimir Putin "has done a lot of good."
Occasionally, Vera would wax ostalgic for the old communist system. Were I a writer living in the Soviet Union, she said, I would be entitled to a monthly allowance and a picturesque dacha in the forest—which isn't nearly as cold (or radioactive) as the Western media would have us believe.
All the while, I would be pushing Vera to embrace capitalism. "Stop giving stuff away," I advised. "For heaven's sake, raise your prices to keep up with inflation and overhead. Please let me pay for the take-home shampoo and conditioner. At least let me pay for the pig ears!"
But my pleas fell on deaf ears, so I resorted to secretly putting money on the counter on my way out. She'd retaliate by loading me down with jars of homemade borscht, pastries and pickled herring from the Europa Deli. We'd exchange Christmas presents—and then Vera would hit me again on Russian Christmas, which occurs on January 7.
Vera and I shared an interest in Russian literature, ranging from Tolstoy and Dostoyevsky to the satirical writing team of Ilf and Petrov. Fluent in French, she introduced me to pop singers Joe Dassin and Mirelle Mathieu. After my first book came out, Vera began selling copies at her shop.  When I had a I one-man exhibit of my photographs at the Atrium Gallery. Vera dragged her husband out to see it, and he came away impressed.
"I can't believe this guy is not a Russian," enthused Yury.  I'll take that as a compliment!
A couple of years ago Vera decided to open her own studio. My wife, who had by then been drawn into the club, suggested she look into The Graystone Office Building. I was dubious, because the Graystone has all the ambience of a funeral home. I had a hard time picturing the ebullient Vera working there, but only until I beheld for the first time what a hair salon would look like were Vera Andrianov the sole proprietor. Walls of electric orange and yellow evocative of Dante's Inferno—"hottest food east of the Mississippi"—a neon sign in the window, colorful matryoska dolls and tschotskes galore! And in the center of it all, the irrepressible Vera.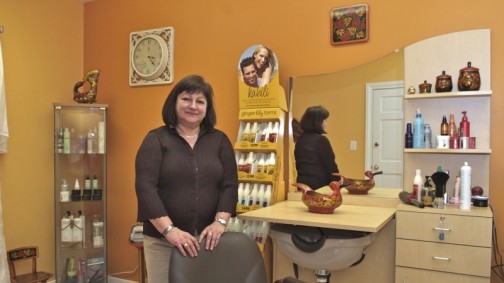 That is, until last December, when Yury—following a prolonged battle against cancer—died. Vera was inconsolable, and it didn't help that Salt Lake was suffering through one of the coldest and darkest winters in memory. Although I had never actually met Yury, I suffered as well. We all mourned, but none of as much as Vera.
However, spring finally came, and with it came hope for a brighter tomorrow. Son Gregory was on the verge of graduating from medical school. He was engaged to Ashley, of whom Vera heartily approved. "A grandchild will be the turning point for you," I told her. "You will have another person to dote upon and spoil the way you have spoiled all of your customers—not to mention my dog."
I last saw her on April 11. Anne and I had popped in for trims, as we were heading to Belize to meet the parents of our son's girlfriend, and we wanted to look our best. Somehow Vera had figured out that I had a birthday in April, and she surprised me with a pair of faux-leopard-fur house slippers from Germany. We left, as always, indebted.
No sooner had we returned than Ashley phoned with terrible news. Vera had suffered a stroke, followed by some kind of highly unusual and unforeseen medical complication. She had died, and we were crushed.
At last Friday's wake I met dozens of Vera's loyal customers—or should we be called her followers? Over the years we had followed her from salon to salon; we had celebrated holidays and birthdays, and we had all learned so much about Russia and Vera's beloved St. Petersburg. All of us had struggled to repay Vera for her generosity, kindnesses, and unflagging thoughtfulness. But none of us had ever managed to catch up.
I also met Gregory for the first time. Which isn't to say I didn't already know a lot about him, for Vera and I have been comparing parenting notes for years. It pains me to think he is now an orphan; however, I'm confident he will—as his parents did before him—carry on in spite of whatever obstacles may lie ahead. His ultimate goal is to become a neurosurgeon, and I'm sure he'll be a good one. He couldn't save his parents, but he will save others. And so the world will be a better place—just the way his mother always wanted it.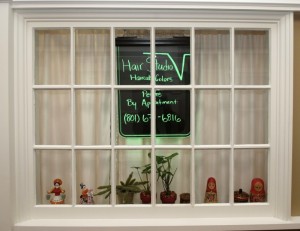 -Richard Menzies