Lost At Sea
April 9th, 2013
Oceans have a history of swallowing up poets, going all the way back to Menander (342-291 BC), who drowned while swimming, having developed a cramp, and Terence (190-159 BC) who met a similar fate while in search of Menander. Percy Bysshe Shelley disappeared beneath the waves, as did Hart Crane and Robert Reggio.
Who was Robert Reggio? Well, he was a friend of mine, an excellent musician, and someone I've been looking for ever since our parting in April, 1967. We two had enlisted in the Peace Corps; however, after three months of preliminary training in Puerto Rico, I was "deselected" from the program and sent home. Robert moved on to Bogota and beyond.
Let me add here that it was not at all unusal to be bumped from the Peace Corps in those days. In the case of our group, deselection was almost the rule. Fully two-thirds of us were found unfit to serve—including the woman I'm married to and the camp psychologist who deselected us—after he was caught peeping into the women's dormitory. Small wonder that Ken Kesey's "One Flew Over The Cuckoo's Nest" was popular reading at Camp Radley.
From time to time I'd get an e-mail from someone desperately seeking Robert for one reason or another. Juan Vazquez attended CCNY with Robert and was living in Albuquerque when Robert returned from his two-year stint in Colombia.
"He gave me a wool ruana back then (sort of an indigenous Indian serape) which I still keep in the trunk of my car as an emergency blanket, but mostly save as a memento from a dear old friend."
Then came in inquiry from Steven F. Dansky, an accomplished writer and photographer and LGBT activist currently living in Las Vegas. Like Robert, Steven grew up in the Bronx and vividly remembers his former schoolmate and best pal.
"I called up from the street, standing in front of a redbrick, five-story walkup and Robert came to the window, letting me know he'd be right down. I had a brown paper bag with a peanut butter-and-jelly sandwich and a few Oreo cookies and a towel coiled under my arm—my bathing suit was under my dungarees. He was breathless with excitement about our trip together. We walked a block to the Grand Concourse and took the D train directly to Coney Island.
"He'd just bought a 12" LP of Art Blakey and The Jazz Messengers, Blue Note 4003. 'I've played one track over and over,' he said. 'It's titled, Are You Real?'
"The passionate core of jazz informed his identity. His walk was bebop bouncy, spring-loaded. His stance cool and poised. His hair glossy, Sal Mineo, jet-black. He spoke through hickory drumsticks as if they were prosthetic limbs. He couldn't stop drumming his fingers on the metal seat. He had a pair of drumsticks wrapped in a towel, which he took out and began to play on the seat, floor, on the window, against the pole. At first, he very quietly tapped and tapped and tapped…then…the drumming became decisive, percussive clattering, motoric rhythms, vibrations that ricocheted off surfaces."
Steven was fourteen years old when he and Robert parted ways.  But, like me and Juan, he never forgot him. And could never determine his whereabouts until just recently.
"After more than fifty years of searching the only footprint on the Internet, an obituary appeared," Steven writes. "Robert Reggio drowned under a full moon off Kahala Beach in Hawaii on May 7, 2009."
And so Robert was lost, and that's how we found him. Which is not to say we've closed the case. Certainly Steven Dansky has not. In fact, he has recently completed a photographic memoir of his days at Coney Island titled "Nickel Empire" and has dedicated the book to Robert Reggio.   I'm honored that a picture I took of Robert in Puerto Rico is also in the book.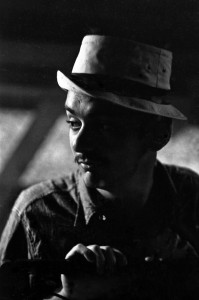 "And so I say to you dear friend, that on any given morning at around nine a.m,, Hawaiian time, if you will cup your ears and point them to the West, to Hawaii, if you will listen very closely you may, you just may, hear the sounds of Blakey and his Jazz Messengers." – Steven F. Dansky
-Richard Menzies