A Trip To Paradise
March 15th, 2013
Maplandia puts it in northern Italy, near the Swiss border; however, if you're on a limited budget—as I usually am—you can just drive a few miles north from Winnemucca, Nevada, until you come to Paradise Valley, home to the venerable Micca House. In the late nineteenth century it was you might call the Little Mall on the Prairie. Under one roof you could find a restaurant, a doctor's office, a barbershop, a butcher shop, a dress shop, a saloon, a saddle shop, a warehouse, a post office, and rooms to rent. Nowadays, it houses mostly pigeons and ghosts.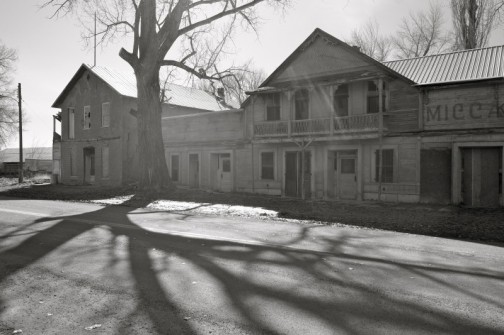 Here and there you can see the remnants of granite walkways, walls and parapets—the work of Italian stonemasons hired by a Mr. Alphonse Pasquale, who purchased the property in 1904. About the same time cottonwoods were planted—trees that now arc high over the ornate balconies from which fashionable ladies clutching parasols once enjoyed watching gunfights and fistfights in the dusty street below.
During the Great Depression, the Civilian Conservation Corps set up shop at the Micca, and I imagine some of the labor-intensive stonework along the riverfront might be the result of CCC labor, but who knows? The official Micca House visitor's guide includes a blank page.
"If you know something about the Micca House that you think we would like to add to what we know, or if you see an error in what we have said in this handout, please let us know."
I like that. Not only was the Micca House Nevada's first shopping mall, but evidently it's also the birthplace of Miccapedia.
The Micca is one of the most photographed buildings in the silver state, but very few have been fortunate enough to venture inside. I'm one of them, and I'm here to tell you it's a treat exploring dusty corridors, climbing staircases that squeak, pushing open doors that creak. What is more fascinating than a room in the middle of nowhere where no one enters, day after day, week after week, month after month, year after year? I left everything exactly as I found it, and I hope whoever comes after will do the same.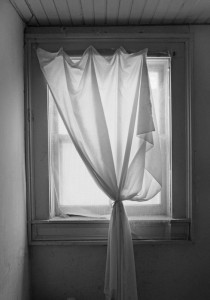 -Richard Menzies