Motel Impossible
March 7th, 2013
Well, here I am once again in Winnemucca, at the storied Scott Shady Court, which once upon a time was Nevada's largest.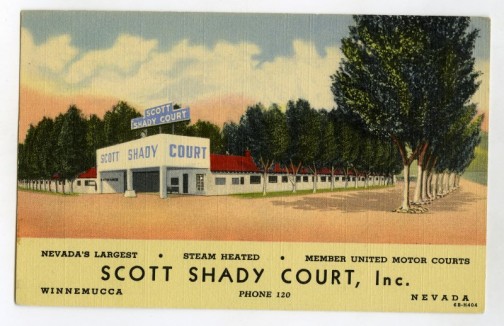 Externally, there have been a few changes over the years. Internally, not so much. In order to open the door, you still need a key. In order to adjust the thermostat, you'll need two keys–in order to open the bullet proof plexiglass shield that appears to be on loan from NORAD. The mint green and maroon bathroom tiling is original, as are the fixtures. The electrical outlets only accept two prongs, which means you need to bring along an adapter in order to plug in a grounded appliance, which then won't actually be grounded, of course.
Upgrading the seventy units would cost a fortune, which is most likely one of the reasons the Shady Court is for sale. The sign has been up now for at least three years. I can't help but wonder how Anthony Melchiorri, host of "Hotel Impossible," would go about remedying the situation.  First, I imagine he would do the obligatory double take.  Avocado green Naughyde?  Tangerine colored curtains?  Is this a bar of soap, or a pillow mint?  Bedspreads?  I HATE bedspreads!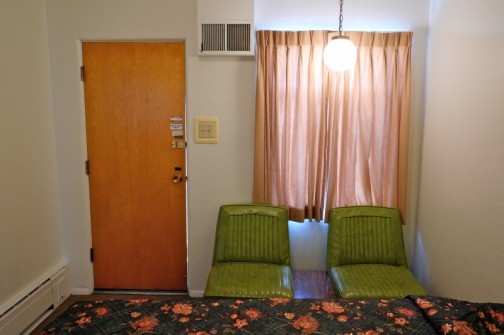 The next thing he'd have to do is throw me out of unit 63, Sam out of unit 62, Mark out of unit 67. However, we three will not go gentle into that good night. For some reason, we like it here! Go figure.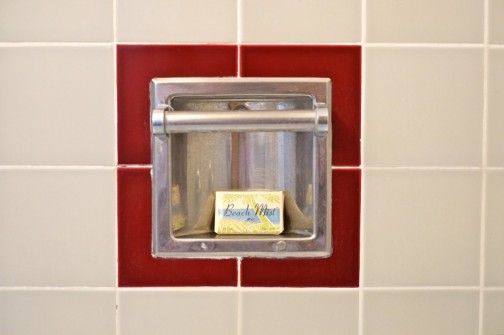 -Richard Menzies