Survival!
February 5th, 2013
Okay, so I'm going to come right out and admit that I'm a big fan of "Dual Survival" starring Cody Lundin and whoever will submit to be stranded with him in the middle of nowhere for thirty very long minutes. Tension inevitably arises when it comes time to settle in for the night. The military guy selects a spot on the ground, while Cody opts for a perch high in a treetop where the leopards can't get at him. The military guy then is forced to make a difficult decision: Which is worse, being eaten by a leopard or (2) snuggling up to the strangely configured Lundin (Think Richard Simmons on steroids).
It so happens I know quite a lot about outdoor survival, having survived a course I once took at Stead Air Force Base in Reno. The course was designed for military aviators; however, Boy Scouts were also admitted, the thinking being that we would have such a fine time surviving on wild game and nuts and berries that we would enlist in the Air Force soon as we came of age.
But here is the big difference between the Boy Scouts of America and the United States Air Force. Combat pilots who are shot down are taught to move away from the crash site lest they be taken captive by the enemy. Boy Scouts whose vehicles break down in the field are taught to stay with the vehicle so that benign searchers can more easily find them. So when it happened that the ancient school bus that we hoped would take us across Central Nevada to Reno broke down in Ely, we had to think fast. Of course we wouldn't abandon our vehicle, but, then, how would we get to Stead Air Force Base in time for survival training? Solution: We decided to PUSH the damn thing all the way across Nevada.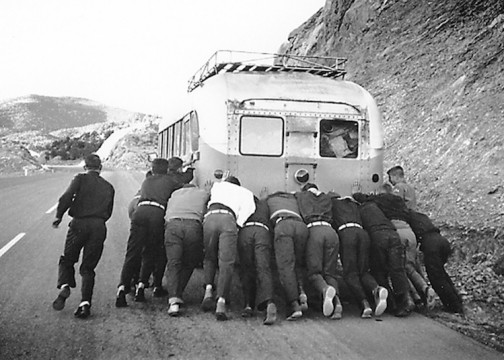 This was way back in November, 1957. Fast forward nine years to 1966, the year I moved to Salt Lake City and ended up rooming with a young premed student named Ronald Crouch. Ron grew up in a remote religious commune in the West Desert known as Eskdale. At the time, his only link to home was via short wave radio, which almost never worked. On holidays, no matter what the weather, Ron would suit up and head out for Eskdale astride his little Vespa motor scooter. We're talking a distance of over two hundred miles, in a blizzard, with significant wind chill!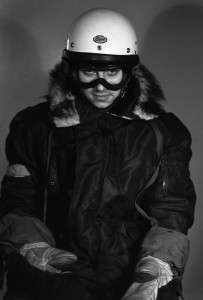 It was Ron who would later introduce me to Wheeler Peak, an imposing landmark destined to become the centerpiece of Nevada's first national park. But in 1967, hardly anyone had ever heard of Wheeler Peak, let alone scaled it. One sunny afternoon in early April, Ron suggested we do so, even though the thirteen-thousand-foot peak was blanketed with snow and the road leading to the trail head was impassable by car.
"We'll walk to the trailhead," said Ron, "and then we'll hike to the summit. Coming back down will be a piece of cake. We'll slide down on inner tubes."
To say we were poorly equipped for such an adventure is an understatement. Ron and I at least wore long pants; Ron's girlfriend Robin Anderson wore a blue jumper—standard issue for womenfolk in Eskdale.
Halfway up the mountain, a certain member of the expedition became mutinous. "I once helped push a school bus across Nevada," I said. "But this is by far the stupidest idea ever!" A second member of the crew—I believe it was Robin's younger brother—agreed.
"What a bunch of namby-pambies you are!" huffed Ron Crouch, aka Sir Ernest Edward Shackleton.
From that snow-shrouded scenic overlook, we all went our separate ways. Robin, I understand, now runs a guest ranch in the Snake Range. Ron has become a urologist, and I'm confident he's good at his job because, clearly, there's clearly no place he's afraid to go.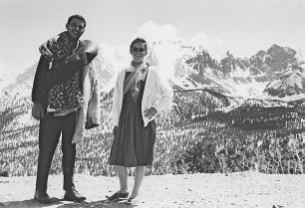 -Richard Menzies